Liposomal Magnesium Bisglycinate Liquid - 160mg - Lime & Blackberry Flavour
Regular price

Sale price

£32.99
Well.Actually.'s 100% Natural Liposomal Magnesium liquid is in a powerful, highly-absorbed form to achieve optimal delivery and effect.
Magnesium is essential for good health and helps regulate many body processes. This magnesium can help with tiredness and fatigue, normal muscle and bone function, red blood cell formation, protein metabolism, the normal function of the nervous system and psychological function, and regulation of hormonal activity.
This pure-form Magnesium Bisglycinate is encapsulated within millions of sunflower-derived micro-phospholipid Liposomes, protecting the magnesium against harsh digestive processes, directly and quickly delivering it into your cells. Mix it into a glass of water to create a natural lime & blackberry-flavoured mineral magnesium drink.
Vegan and vegetarian friendly, gluten and soy free, non-GMO, this product contains no added sugars or sweeteners and is UK manufactured to high-quality BRC and GMP (Manufacturing) standards. 160mg Elemental Magnesium per 10ml serving.
Overview & Benefits

• Advanced Nutrient Absorption

• Liquid Magnesium Bisglycinate - 160mg Elemental Magensium

• 30 Servings

• Vegan & Vegetarian friendly

• No Artificial Colours, sweeteners, Non-GMO

• Soy, Gluten, Alcohol Free• Lime & Blackberry Flavour

• Made in the UK

• Manufactured to GMP / BRCGS Accreditation

• Eco-Conscious Packaging
Directions & Ingredients

Directions of use:

Shake before use. Take 10ml Daily (2 x teaspoons) = 160mg Elemental Magnesium. Dilute it into approximately 150ml water (a small glass), a cold drink, or a smoothie. It can be taken straight from the spoon; however, dilution offers a more pleasant experience.

Ingredients:

Purified Water, Vegetable Glycerin, Magnesium Bisglycinate, Phospholipids (from sunflower lecithin) containing Phosphatidylcholine, Natural Flavouring (Lime, Blackberry), Antioxidants (Ascorbic Acid, Natural Vitamin E).

Storage Notices:

Store at room temperature, out of direct sunlight. Can be refrigerated. Once opened, use within 90 days. Store out of reach and sight of children.

Warning Notices:

Do not exceed recommended dose. Food supplements must not be used as a substitute for a balanced diet and a healthy lifestyle. If you are pregnant, breastfeeding, taking any medications or under medical supervision, please consult a doctor or pharmacist before taking this supplement.
Delivery
Share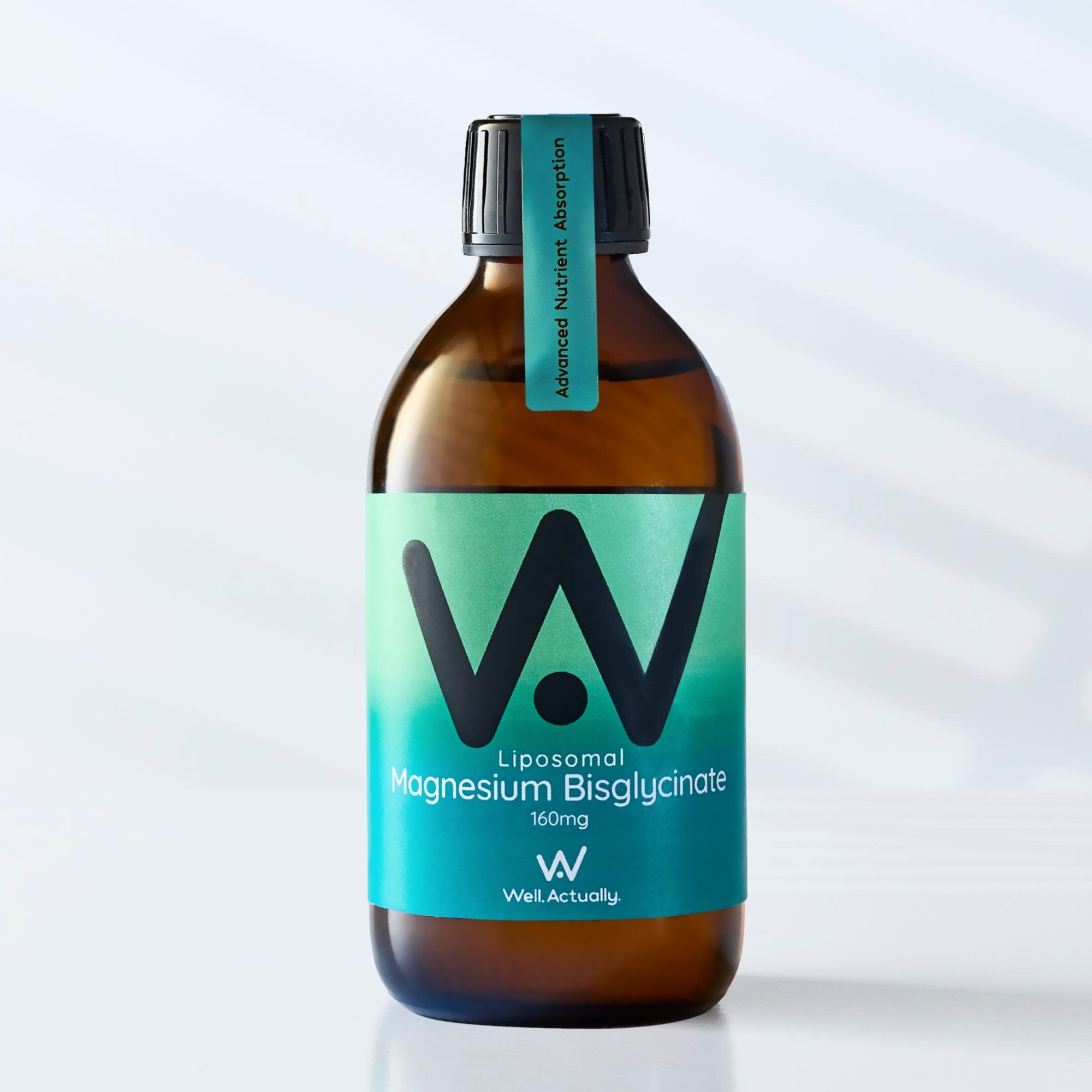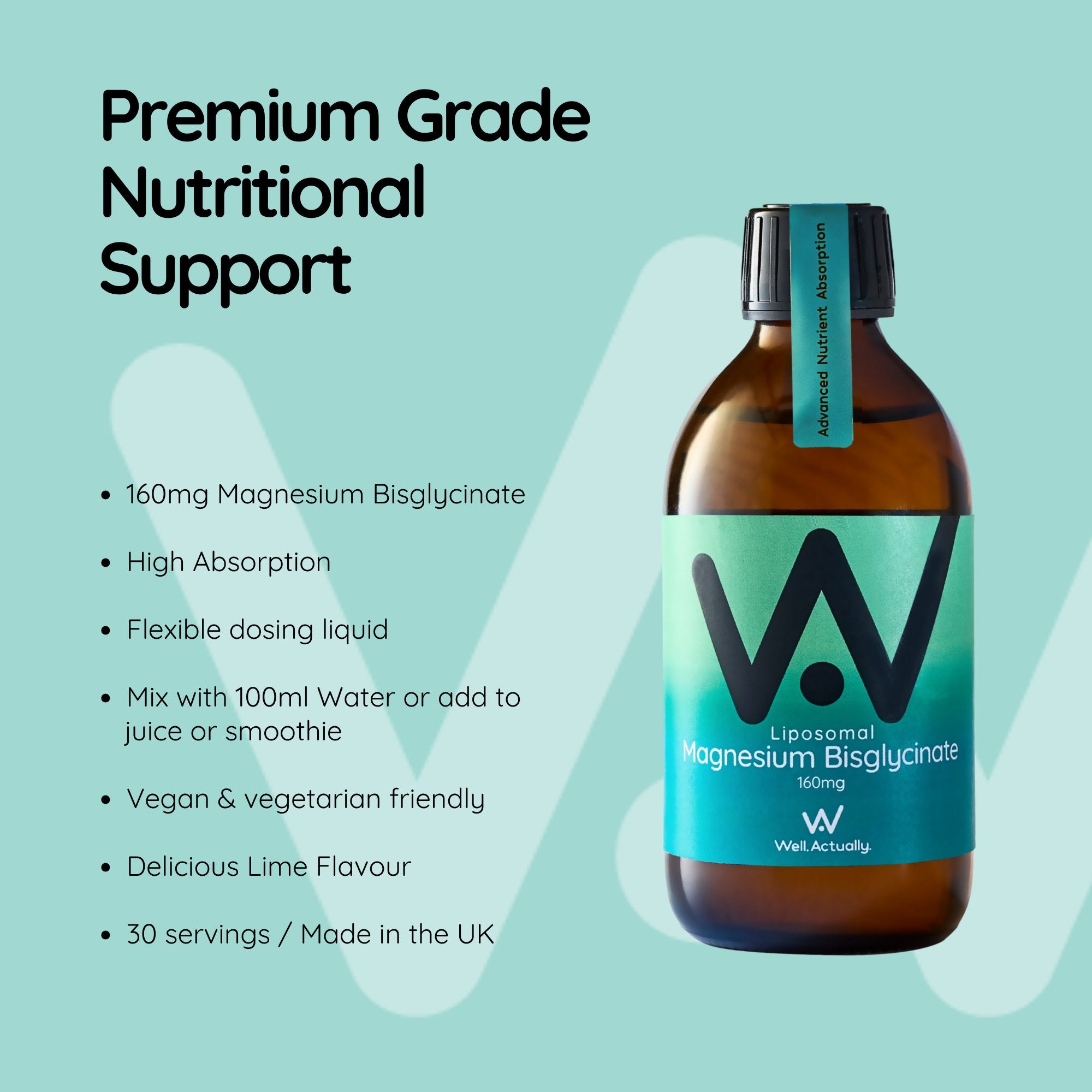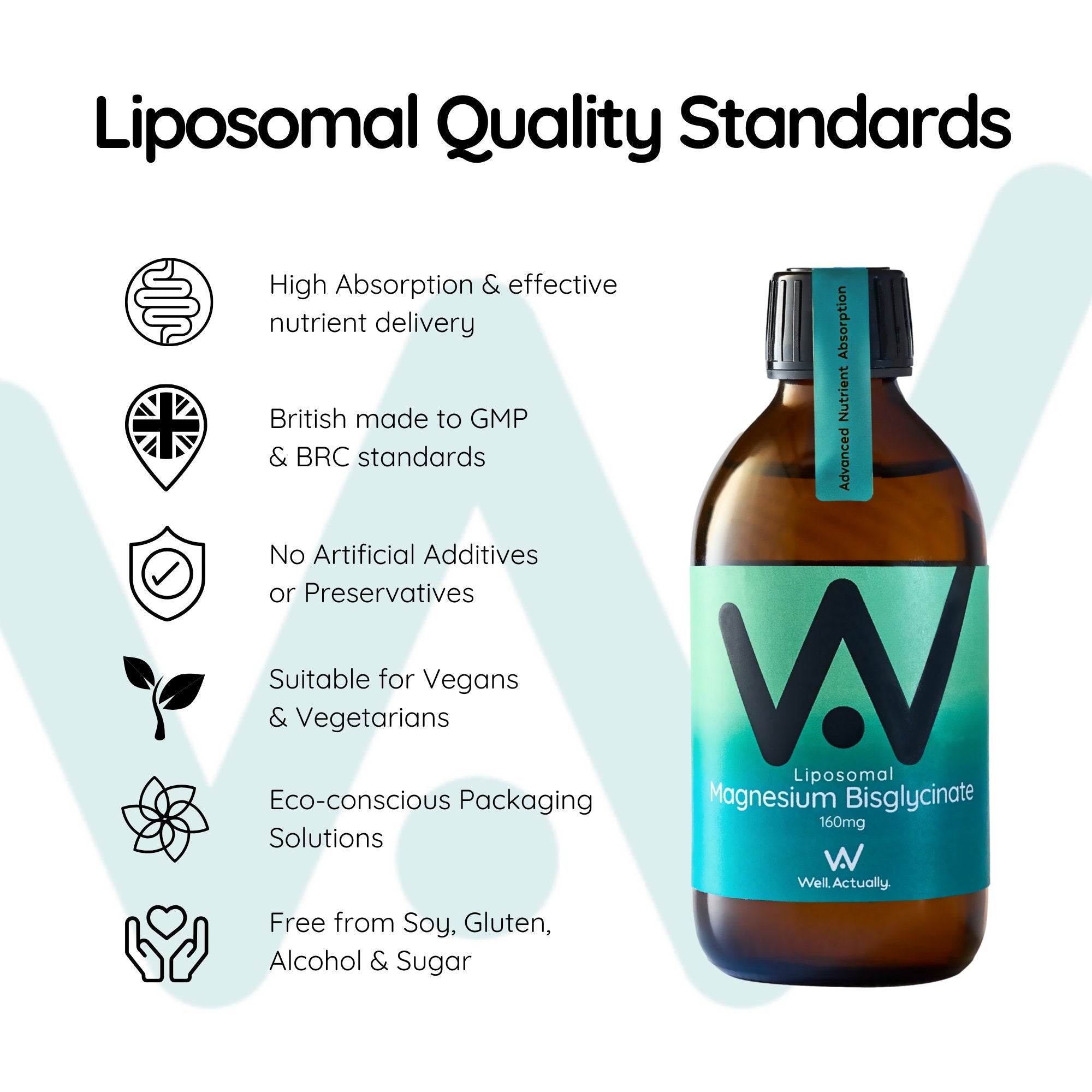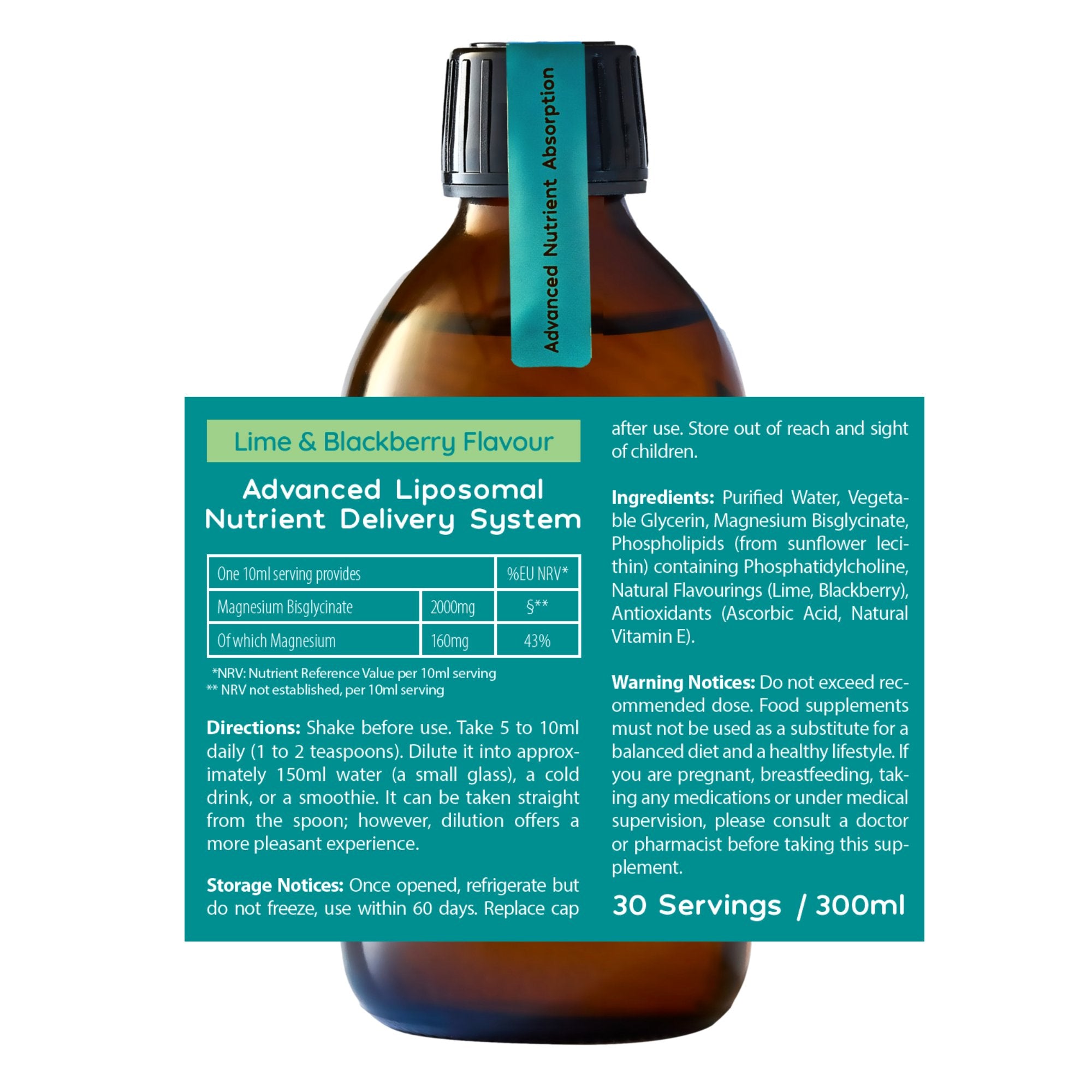 frequently.asked.questions.
How is it best to take Well.Actually. Magnesium Liquid?

Take 5 to 10ml per day 100- 200mg magnesium (1 to 2 teaspoons) mixed with water to create a delicious lime drink or added to a water bottle or smoothie, juice, etc.

Mix with 100-150ml water equivalent to 3/4 of a small glass of water.

Can be taken straight from the spoon however it has a stronger taste.

Take on an empty stomach at any time of the day. If taking for sleep benefits, consume 2 hours before you go to bed.
What does your Liposomal Magnesium taste like?

Our liposomal Magnesium, when mixed in 100- 150ml of water, tastes like a Lime flavoured mineral water. You take it straight from the spoon however, it will have a strong magnesium taste, combined with the natural lime flavour.
Can I mix my Liposomal Magnesium with another liposomal Product?

Absolutely and we would definitely recommend it. Its such a great way to take various vitamins and minerals by mixing them. You can mix them into a small glass and add a bit off water to shot, or into a larger glass and turn it in to a flavoured water drink. You can also mix into your sports water bottle or juice or smoothie.
Are there any side affects with Liposomal Magnesium?

Magnesium is an extremely safe supplement and is well tolerated by most adults as long as it is not taken in super high doses. Taking too much may result in loose stools or diarrhoea.

Liposomal Magnesium in Bisglycinate form is much more tolerated and because it is rapidly absorbed and used by the body, is far less likely to cause any side effects.

 

We always advise checking how much Magnesium you obtain from foods and supplements and staying within 500mg a day.

 

The recommended daily intake:

300 mg per day for adult males

270 mg per day for adult women

280-300 mg per day for adolescents

60mg per day for babies up to 6 months

If you are taking other dietary supplements under the direction of a health professional, or are on medication or breast feeding, then we recommend consulting them before using Well.Actually. Liposomal Magnesium.
Why is Liposomal Magnesium Bisglycinate better VS standard form Magnesium?

Since Magnesium is an insoluble mineral on its own (as a mineral element), it must be paired with another compound to make the mineral more soluble for the body to absorb. Several different organic and inorganic compounds can be used, each providing different absorption levels. For example, the most common form, Oxide, an inorganic compound, results in less than 4% absorption with 96% being eliminated. People mainly take this type of Magnesium to help with constipation.

Well.Actually. chooses Magnesium Bisglycinate, where Magnesium is bound to two organic glycine amino acid compounds. This increases its bioavailability and effectiveness and is gentler on the bowel. However, despite its higher absorption potential of 30-50%, many factors can reduce absorption to below these levels. It's for this reason that we also wrap our Magnesium in Liposomes. Liposomes increase magnesium absorption and bioavailability in several ways:

PROTECTION - Encapsulating Magnesium within liposomes enables it to pass through the stomach and intestinal environment without interacting with dietary compounds, medications, or digestive factors that can affect absorption.

ABSORPTION EFFICIENCY - All liposome absorption occurs through the lymphatic system, one of the most direct and efficient nutrient delivery routes into the body. For the non-encapsulated Magnesium (approx. 30%) will be absorbed through normal transport routes.

SAFER - It helps prevent the direct interaction of Magnesium with the intestinal mucosa, helping reduce any side effects.

TARGETED DELIVERY - Liposomes stay longer in the blood system and bind with cell membrane walls, allowing for efficient, targeted delivery into the cells for optimum bioavailability.
Does Liposomal Magnesium Bisglycinate need to be refrigerated?

We recommend our Liposomal Magnesium Bisglycinate is stored at room temperature, out of direct sunlight. However, you can refrigerate it if it's preferred.