Liposomal Vitamin C Liquid - 1000mg - Up To 60 Servings - Fruit Fusion Flavour
Regular price

£0.00

Sale price

£32.99
Well.Actually. Liposomal Vitamin C 1000mg liquid is in a powerful, highly-absorbed form to boost your Vitamin C levels, providing immune, collagen, energy, and bone support capabilities.
Our Liposomal Liquid Vitamin C is available in a fruit fusion flavour which you can take straight from the spoon or mix into water. 300ml provides 60 x servings, with the 150ml size providing 30 x servings. 
Encapsulated within millions of sunflower-derived micro-phospholipid Liposomes, this protects the Vitamin C against harsh digestive processes, directly and quickly delivering the nutrients into your cells.
Vegan and vegetarian friendly, gluten and soy free, non-GMO, this product contains no added sugars or sweeteners and is UK manufactured to high-quality BRC and GMP (Manufacturing) standards.
Overview & Benefits

• Advanced Nutrient Absorption

• Liquid Vitamin C 1000mg

• 30 / 60 Servings

• Vegan & Vegetarian friendly

• No Artificial Colours, sweeteners, Non-GMO

• Soy, Gluten, Alcohol Free

• Fruit Fusion Flavour

• Made in the UK

• Manufactured to GMP / BRCGS Accreditation

• Eco-Conscious Packaging
Directions & Ingredients

Directions of use:

Gently shake before use. Take 5ml (1 teaspoon) daily. Can be taken directly or mixed with a cold drink, smoothie, etc.

Ingredients:

Vegetable Glycerin, Purified Water, Sodium Ascorbate, Phosphatidylcholine Rich Sunflower Lecithin, Natural Flavourings (Orange, Mandarin, Melon, Vanilla), Steviol Glycosides, Stabiliser (Xanthan), Natural Antioxidant (Vitamin E).

Storage Notices:

Refrigerate but do not freeze. Replace cap after use. Once opened, use within 90 days. Store out of reach and sight of children.

Warning Notices:

Do not exceed recommended dose. Food supplements must not be used as a substitute for a balanced diet and a healthy lifestyle. If you are pregnant, breastfeeding, taking any medications or under medical supervision, please consult a doctor or pharmacist before taking this supplement.
Delivery
Share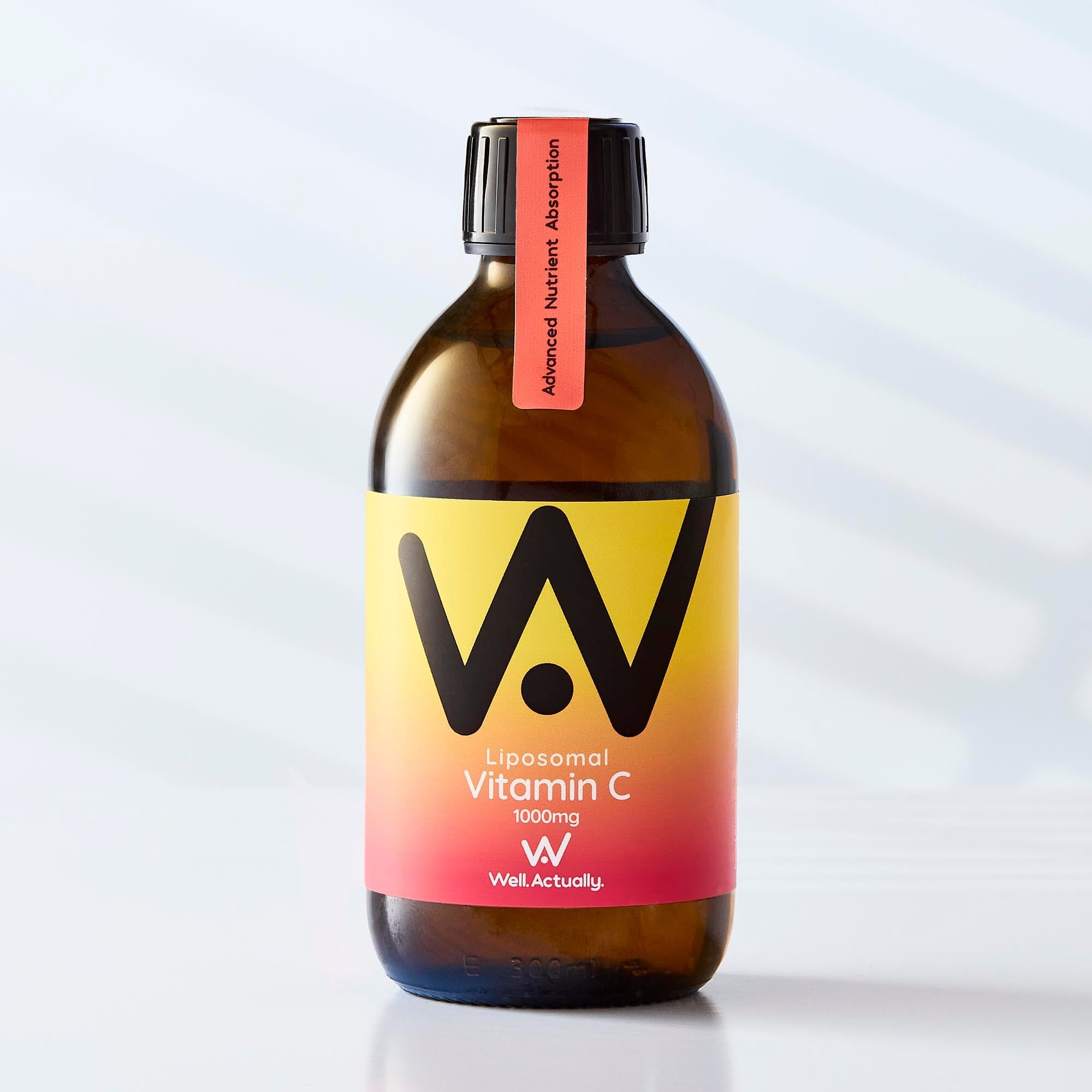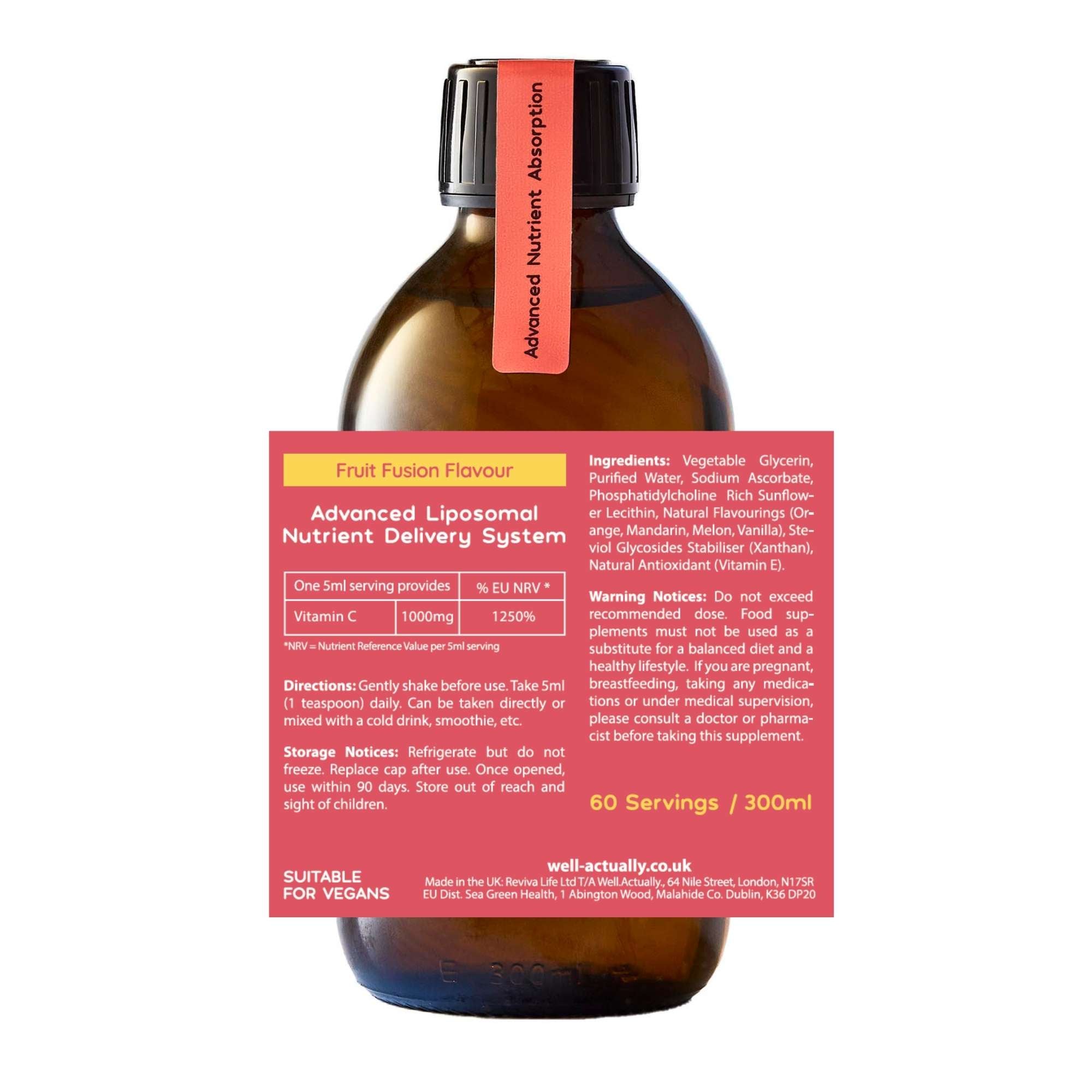 frequently.asked.questions.
Why is Liposomal Vitamin C better VS standard form Vitamin C?

Standard form Vitamin C has limits on the amount of Vitamin C your body will absorb, which is somewhere between 14 – 30%.

Liposomal Vitamin C is protected by a bubble from the harsh digestive processes and delivered in the most efficient way, and which avoids normal Vitamin C absorption restrictions. This enables more to be delivered into your blood stream and target delivered into cells.
How much Liposomal Vitamin C should i take?

You can take Well.Actually Liposomal Vitamin C straight from the spoon or mix it into the water to create a fruity drink. You can also mix it into juices or smoothies (mix, do not blend)

Take a 5ml 1000mg Vitamin C serving (teaspoon)

Taking More – if you are ill, carrying out intense exercise, recovering from an illness, for skin health concerns, then you can take more i.e. 2 or 3 doses of 1000mg, spread throughout the day.

For best performance – Vitamin C works best when you spread it out throughout the day in 2 or 3 servings. With our flexible dosing formula, this could mean you taking only ½ teaspoon (2.5ml) which delivers 500mg Vitamin C three times in the day. Taking one dose also works well, so whatever is more convenient.

Vitamin c can give you an energy boost so it is best avoiding to take in the evening.
What does your Liposomal Vitamin C taste like?

Our liposomal Vitamin tastes fruity. Due to it being a concentrated dose of high-strength Vitamin C, around 10% of people may find the taste too rich. We would advise these people to dilute it into a favourite beverage of their choice.
Why is your Liposomal Vitamin C much more affordable than others?

We use a concentrated form which achieves better value for money as you will achieve 60 servings (5ml), more than double that of most other brands who only offer 25-30 servings (10ml) for the same price, or they can cost even more.

Other brands use sachets which can mean higher costs as instead of filling one bottle, you are filling 30 sachets, plus there is the cost of each sachet to apply on top.

Also our products are made in the UK, whereas other brands could be imported from Europe or America which incurs extra delivery and import charges.
Can I mix my Liposomal Vitamin C with another liposomal Product?

Absolutely and we would recommend it. It is such a great way to take various vitamins and minerals by mixing them. You can mix them into a small glass and add a bit off water to shot, or into a larger glass, turning it into a flavoured vitamin beverage. You can mix it into your sports water bottle, juice, or smoothie.
Are there any side affects with Liposomal Vitamin C?

Standard form vitamin C can easily cause digestive upset if taken in high doses. Liposomal Vitamin C in gentle sodium ascorbate form is much more tolerated. Because it is rapidly absorbed and used by the body, it is far less likely to cause any side effects.

Even though Vitamin C is one of the safest and scientifically studied nutrient forms used by millions of people worldwide, it is possible that it could interact with some drugs.

If you are taking other dietary supplements under the direction of a health professional, or are on medication or breastfeeding, then we recommend consulting them before using Well.Actually. Liposomal Vitamin C.

We also advise keeping to under 2000mg Vitamin C a day.
Does Liposomal Vitamin C need to be refrigerated?

Yes, we recommend that once opened our Liposomal Vitamin C should be stored in the refrigerated.