Neuro Night 5-HTP+ 9 Ingredients - 60 Capsules
Regular price

Sale price

£21.00
Well.Actually. Neuro Night 5-HTP is a powerful blend of nine vitamins, minerals, and botanicals which has been expertly formulated by nutritionists to help mellow your mood and promote restful sleep. 
The advanced Neuro Night formula includes 5-HTP and cherries to boost melatonin naturally, which helps contribute to the body's natural sleep cycles and circadian rhythms. Magnesium supports deep, restorative sleep. B6, in its "active" and readily usable form (p5p), helps to support melatonin which contributes to the nervous system and psychological function. Zinc is associated with longer sleep patterns. Chamomile & Hops, together with stress and hormonal balancing Reishi mushroom & Schisandra extract, help promote calm, relaxation, and a soothing transition to a restful night's sleep. 
Vegan and vegetarian friendly, gluten, and soy free, non-GMO and is UK manufactured to high-quality BRC and GMP (Manufacturing) standards. Take with an evening meal - 60 x Capsules provides up to 60 days. 
Overview & Benefits

• 9 Sleep & Calm Support Ingredients

• 5-HTP natural extract from Griffonia Simplicifonia seeds

• 60 Capsules

• Formulated by Nutritionists

• Vegan & Vegetarian friendly

• Made in the UK

• Manufactured to GMP / BRCGS Accreditation

• Eco-Conscious Packaging
Directions & Ingredients

Directions of use:

1 capsule after evening meal (on a full stomach). May take up to 2 capsules if required. Take with water or a cold drink, not to be chewed. Best results achieved after taking for 7 days.

Ingredients:

Aquamin MG TG Magnesium, 5-HTP from Griffonia Seed extract, Schisandra Chinesis, Zinc Methionine, Montmorency Cherry extract, Chamomile extract, Hops extract, Rice extract blend, Brown rice flower (Gluten free), Reishi Mushroom extract, Vitamin B6 (Pyridoxal -5-Phosphate).

Storage Notices:

Store in a cool, dry place, away from sunlight. Store out of reach and sight of young children.

Warning Notices:

Food supplements must not be used as a substitute for a balanced diet and a healthy lifestyle. If you are pregnant, breastfeeding, taking any medications or under medical supervision, please seek medical advice prior to taking supplements. No added allergens.
Delivery
Share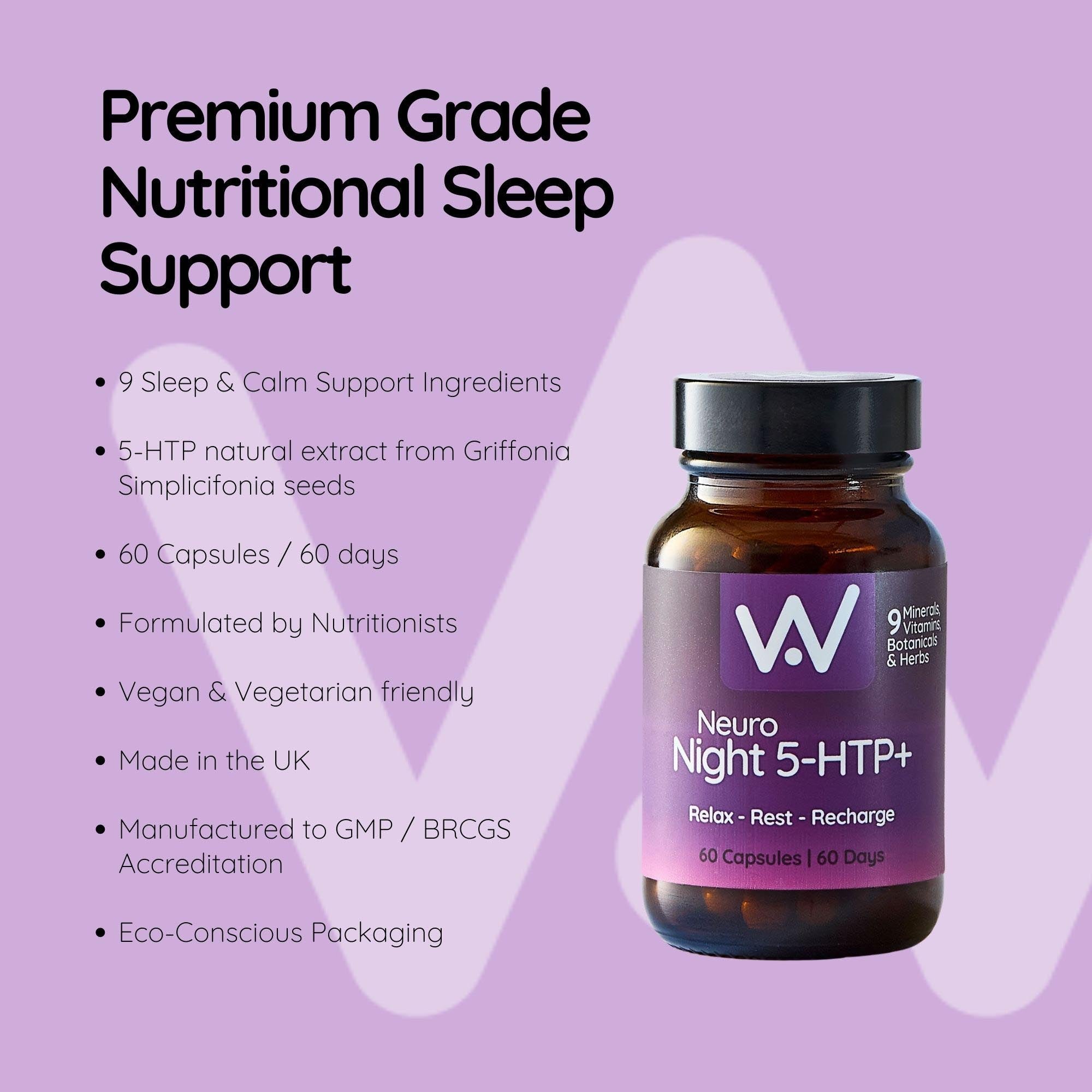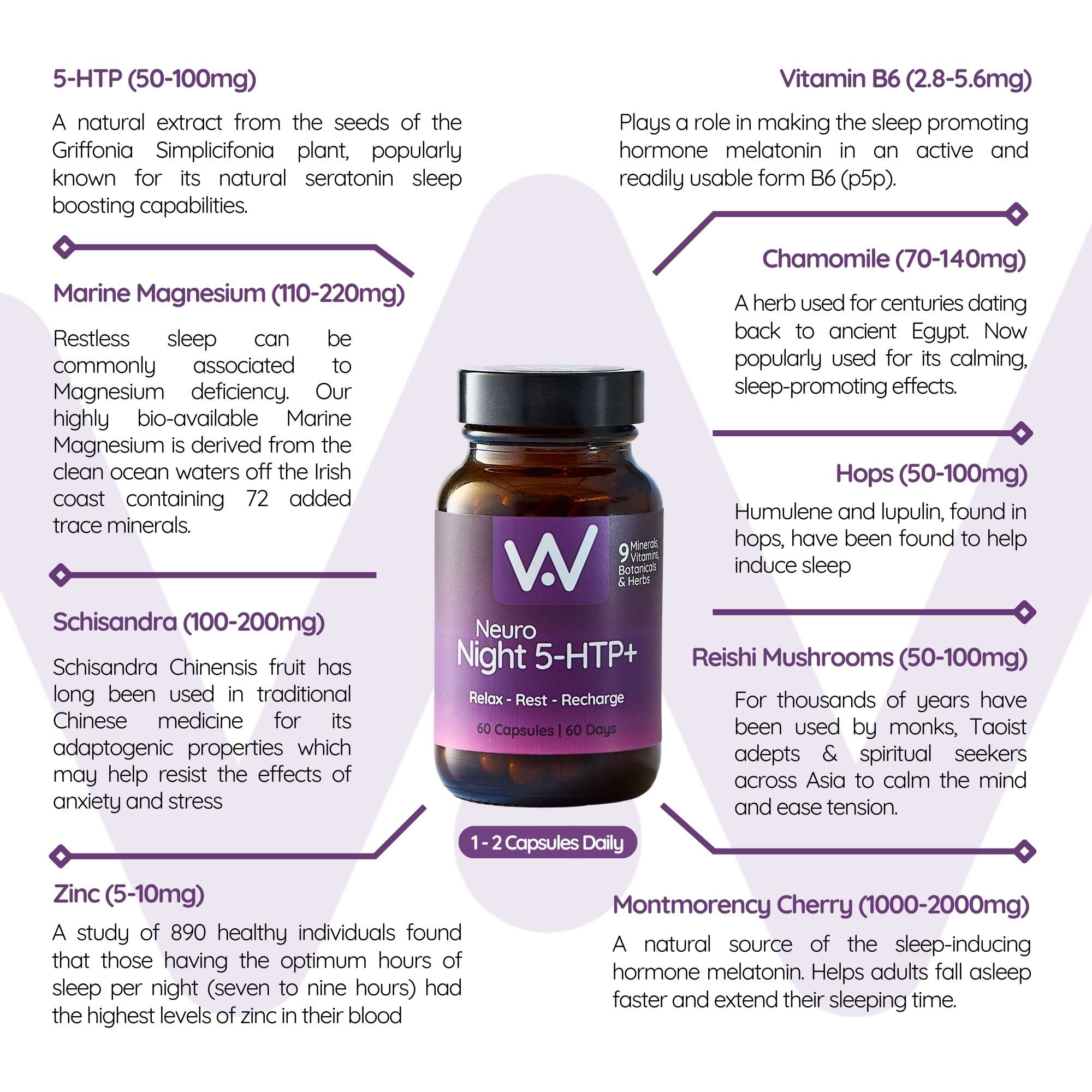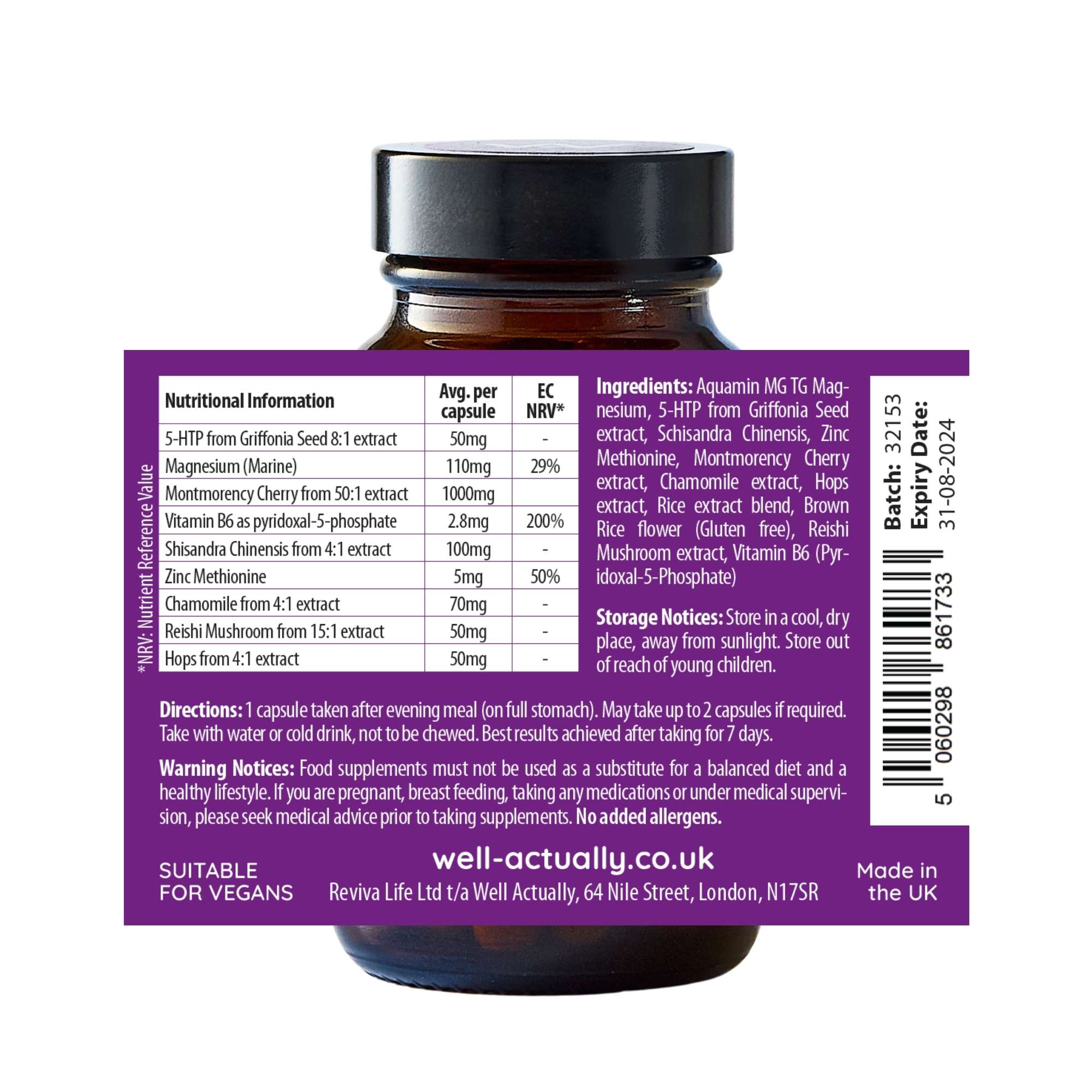 frequently.asked.questions.
Why should I take Well.Actually Neuro Night 5-HTP+ Capsules?

Well.Actually. Neuro Night 5-HTP+ has been developed as a convenient way to supplement the diet with a combination of synergetic powerful sleep supporting ingredients which can help restore calm in preparation for a relaxing night's sleep and improved sleep quality. 
What are the benefits of taking Neuro Night 5-HTP+ Capsules?

Feeling overwhelmed, uptight or restless? You might be missing out on nutrients which could help re-balance your emotional health. 

In these modern-day times, diets and meal plans have changed (quick meals) and our body clocks are being challenged by blue light mobile technology which reduce melatonin (clock setting hormone) production. 

Lives are busier, more complicated and challenging where many people live in a state of constant stress. Besides practicing mindfulness or deep breathing regularly, eating a healthy diet and getting good exercise, vitamins, minerals, and herbs have been shown to help alleviate stress, restlessness, and hormone imbalances which could be adversely affecting your health. 

Neuro Night 5-HTP+ supplement should be taken as a nutritional support to help the body and mind relax.
When will I start to feel the effects of Neuro Night 5-HTP+?

Results can be experienced immediately; however, it is recommended to take Neuro Night 5-HTP+ for 1-2 weeks to begin seeing the full effects.  It is suggested that you take one capsule after your evening meal (on a full stomach). Take two capsules only if required, after assessing how Neuro Night 5-HTP+ affects you, having taken one capsule over a one to two-week period.
How long should I take the Neuro Night 5-HTP+ for?

Continue to take for up to 3 months, take a break for a month and continue to take if required. Repeat this cycle for best results.
If I take Well.Actually. Neuro Night 5-HTP+ should I expect any side effects? 

In a few individuals 5-HTP can cause mild drowsiness so it is advisable not to drive or operate machinery until you determine how it affects you.

Discontinue use and consult a doctor if adverse reactions occur.
Can Neuro Night 5-HTP+ Capsules be taken with other medications?

Well.Actually. Neuro Night5-HTP+ food supplement is generally safe to be taken alongside medications. However, if you are taking anti-depressants, you should consult your doctor before taking this product. Do not take if pregnant or breast feeding. 

Discontinue use and consult a doctor if adverse reactions occur. For specific advice it is recommended that you contact your doctor or pharmacist.